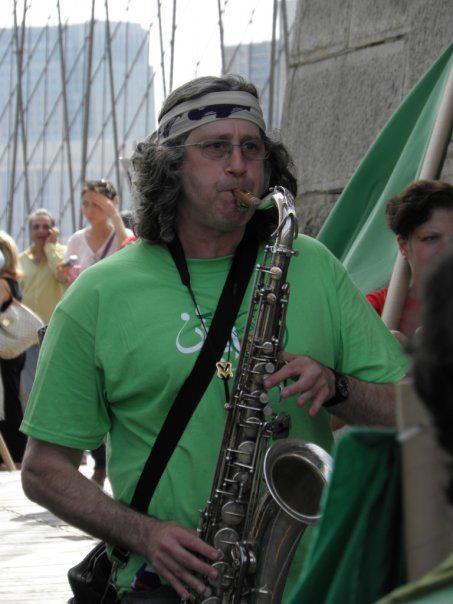 In 2009 when in Iran's people were uprising – called the GREEN MOVEMENT – for a couple of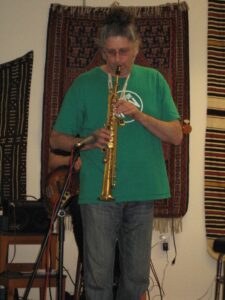 months, he decided to support this movement in New York. He played his horn in support for this movement where ever he could: at rallies in front of the UN, Columbia University, Washington Park, Union Park, Brooklyn Bridge, and at panels and in his concerts.
During this time he realized that music must be a social-political-cultural force. Besides entertaining people it must be also its voice. So, 2009 became the year when SoSaLa decided to become a music activist. Someone who "uses or supports strong actions (such as public protests) with his instrument in support of or opposition to one side of a controversial social issue".
Becoming a music activist meant also to act collectively with other same minded people.
In 2011 SoSaLa supported the Occupy Wall Street Movement in Manhattan at Liberty Plaza or Zuccotti Park.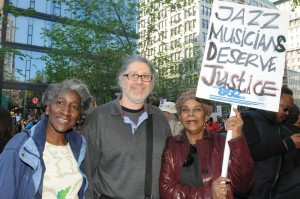 And in 2012 he joined the musicians union Local 802 and got involved in her Justice For Jazz Artists Campaign which was co-led by the Jazz legends Bob Cranshaw and Jimmy Owens.
As a matter of fact, being a working musician wasn't easy in New York. Especially for freelance musicians who were not taken care by the musicians union. So, he decided to organize freelance musicians outside of the union, which was approved by the union, and founded MUSICIANS FOR MUSICIANS (MFM) in New York in 2015.
During the pandemic he supported the essential workers in New York playing his horn from his window every evening at 9pm. By doing so, he realized that working musicians should be treated and respected in the same way like the essential workers as well.
Later, during the pandemic (2020) when he applied for unemployment benefits and health financial assistance and succeeded in receiving them he presented himself as an essential worker and called himself a  Musician with Attitude (MwA).