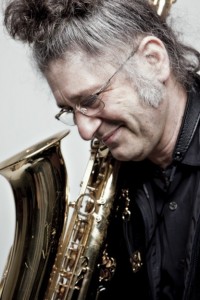 5/5/2023
Nu World Trashed Review by Bruce Lee Gallanter (Downtown Music Gallery Newsletter for May 5th, 2023)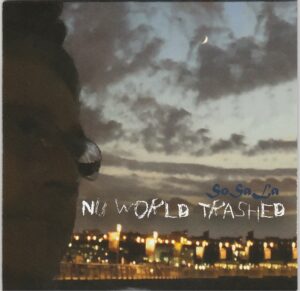 SoSoLa – Nu World Trashed (DooBeeDoo Records 95269-03330; USA) Featuring SoSoLa (Sohrab Saadat Ladjevardi) on tenor sax & compositions, Hubl Greiner on electronics, mixing & mastering), Paul Amrod on electric piano, Mike Irish on electronics, Dr. Cornel West – voice, Massamba Diop on talking drum, Mar Gueye on sabar (Senegalese hand drum), David Belmont on dobro, Baba Don Eaton on percussion, Kaveh Haghtalab on kamancheh and Genetic Drugs on drums & synth. I've known Sohrab for a decade now and always admire his work as a serious activist for Creative Musicians. He seems to take his time in between records, the last one I reviewed was in 2012. "Welcome to Nu World" opens with haunting tenor sax, eerie electric piano and spaced out electronics (from Hubl Greiner). The overall effect is most hypnotic. On Enough is Enough" both Sohrab and Dr. Cornel West do some effective spoken word vocals, mostly talking about social justice. Mike Irish provides the electronic/sampled groove. On "Mystical Full Moon Hymn for Ornette Coleman", Genetic Drugs provides a lush electronic groove while Sohrab adds several layers of tenor sax. Nice. "Sad, Sad, Sad Sake" is a hymn of sorts for some soft bluesy dobro, kamancheh (Iranian long neck string instrument) and soft distant percussion. On "Anybody Out There" Sohrab recorded his tenor sax on his I-phone, with Genetic Drugs adding layers of spacious electronics and a slow, sly beat/groove. I like the way several layers of sax harmonies have been added. Most of these songs have visuals as well which are posted on Vimeo. I found that all of these pieces have a hypnotic undertow which allows us to go along for the inner ride if we choose to do so. On "What's What", Sohrab asks what is going on in our city (NYC), thinking out loud about things he observes. I like the way the middle-eastern and Downtown sounds are blended here into something new. Got to keep listening to SoSaLa's voice/music/sound to find out where his muse will take us next. Hopefully we won't have to wait for another decade. Peace. – Bruce Lee Gallanter, DMG
(NEW) ALL ABOUT JAZZ (NY) CD review – 9/9/2021 by Glenn Astarita: https://www.allaboutjazz.com/nu-world-trashed-so-sa-la-doo-bee-doo-records
Jazzwise (UK) CD on-line review (May 2021 edition) by Daniel Spicer:
SoSaLa: Nu World Trashed  by Daniel Spicer
SoSaLa is the nom de guerre of Swiss-born Iranian American saxophonist Sohrab Saadat Ladjevardi, who counts Ornette Coleman, the Master Musicians of Jajouka and Malian singer Salif Keita among his previous collaborators. Impressive pedigrees aside, on the evidence of this new album, it sounds like he could do with finding himself a band.
Most of the tracks here find his warmly melancholic tone backed by distinctly flimsy electronic beats such as might ooze easily from an iffy beach bar somewhere in the tropics. "Enough Is Enough" attempts to up the urgency with a spoken cameo appearance from philosopher, critic and activist Dr. Cornel West, who delivers an excited if somewhat inscrutable sermon that seems to berate "vampire capitalists" while exhorting musicians to "organise". West may be a stirring orator but Amiri Baraka he ain't. SoSaLa finds himself in much more convincing territory on three longer tracks that ditch the electronics in favour of meditative, raga-like atmospherics, blowing a sinuous soprano backed by dobro, bowed Persian kamancheh and Hungarian cimbalom. Now, wouldn't it be nice if he could get a working group together to explore some of these Codona-like sonorities a little more deeply?