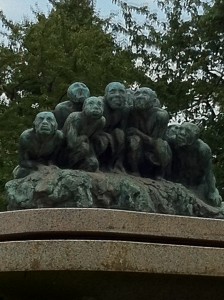 The reason for my trip to come to Tokyo, as you already know, was to attend my wife's mother funeral who passed away recently. As usual I took one of my horns with me, this time it's my soprano saxophone, which is smaller and lighter than my tenor saxophone. I had no idea, how my sax would get involved in my life in Tokyo. Of course no concerts were planned by me and playing on Tokyo streets was out of question.
In the morning of the day when I was going to say my farewell to my mother-in-law before the cremation, I went to the Sozen-Ji Temple near by. I took my soprano with me. When approaching the temple the Kannon worship ceremony had already started. I did my prayer which was dedicated to my wife and her mother. After the ceremony I took a walk in the temple site and sat down on a bench on the east side of the temple complex. It was a lovely morning, around 6:30am. I just observed the people around me who were mostly elderly people, some joggers and young Chinese women who seemed to live and work here.
After a while I got the impulse to play my sax…a musical ode to my mother-in-law. A piece of music which would take off the fear from her and would make her "hot" trip to the other world easier and faster. I recorded the music with my iPhone.
When I and my family were at her coffin saying our good-byes, I put my iPhone close to my mother-in-law's right ear and let her listen to my sax. Please listen to my sax In memory of Kazuko, my madar #2.
Music joins me everywhere I go, and I'm very happy that my music could join my mother-in-law's spirit's trip to heaven?