SoSaLa – a  music collective founded in New York in 2011 – is fueled by improvisation, diverse instruments such as electric guitar, fula flute, piano, vibraphone, sabar, electric tar, electric trumpet and electronics, blending melancholic melodies, with those of founder, front-man and sax player Sohrab Saadat Ladjevardi's native Iran. The rhythm section blends Persian, African and African-American rhythms and instruments.
Sohrab's vocals give a dada-istic touch to social and political issues. The music is molded by his international background, as an Iranian raised in Germany who later moved to Japan, and now New York City.
Boasting a formidable musical résumé, Sohrab has worked with Malian pop star Salif Keita to the jazz legend Ornette Coleman and Morocco's Bachir Attar and the Master Musicians of Jajouka.
Following NY musicians have  joined SoSaLa during the last years: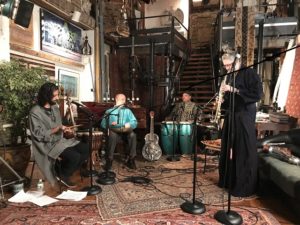 Regular Members:
Sohrab Saadat Ladjevardi– Sax and vocals
David Belmont – Dobro and percussion
Baba Donn Eaton – Percussion, harmonica and back vocals
Kaveh Haghtalab – Kamancheh
Free Members:
Greg Crotty – (electric) cello
Sylvain Leroux – fula flute
Lautaro Burgos – Drums
Greg Zweiben – Bass
Michael Wimberly – Drums
Brian Prunka – Oud
Sinan Gundogdu – Oud
Damon Banks – bass
John Pietaro – vibraphone
Dawoud Kringle – Sitar and Dilruba
Swiss Chris – Drums
Piruz Partow – Electric Tar and Bass
Doron Lev – Drums
Alejandro Castellano – Guitar
Derek Nievergelt – Bass
Dave Ross – Guitar
Marko Pankovich – Electric Guitar
Marco Lienhard – Shakuhachi
Jeremy Danneman – clarinet
April Centrone – Drums
Billy Ficca – Drums
Lukas Ligeti – Drums
Ladell Mclin – Guitar
Al MacDowell – Bass
Mar Gueye – Sabar
Satish – Electric trumpet
Altogether, they call the music nu world trash.  And that gives the title to their debut CD, Nu World Trash, which came out March 6th, 2012 on DooBeeDoo Rec.
SoSaLa expanded to following US cities: New Orleans, Chicago, Washington DC, Baltimore, and other cities. Here is the list of the cities and its members in the US: https://sohrab.info/?p=1760
SoSaLa's Debut Nu World Trash Breathes Fresh Life At The NYC Crossroads of Avant-Jazz and Middle-Eastern Music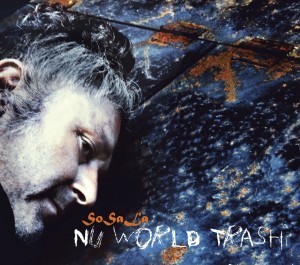 Nu World Trash is SoSaLa's debut release, on NYC's DooBeeDoo Records, but continues the long career of Sohrab Saadat Ladjevardi – saxophonist, soundtrack composer, editor of the on-line music magazine DooBeeDooBeeDoo NY, music activist and martial arts master (formerly of groups The Tehran-Dakar Brothers, and SADATO). Whether blasting his horn in front of the United Nations in support of the Green Movement for Iran, gigging around town, or playing on the streets of the city, Sohrab's presence in NYC can be felt, and through the new music on this CD the essence of those experiences are captured.
SoSaLa fuses free jazz with world music, with a particular emphasis on the Persian influences that come from Sohrab Saadat Ladjevardi's native Iran. On sax, Sohrab draws from his time playing with legends like Salif Keita and Ornette Coleman (whom he currently plays with on a regular basis in master classes), and Bachir Attar of the Master Musicians of JaJouka, as well as his time spent living in Switzerland, Germany, Japan, and now New York City. His bold original sound ranges from the soulful and melodic to the brash and contemplative, with swells of Middle-Eastern infused blowing tangled throughout.
"I came to NYC in 2008", says Sohrab, "But I'm oriental and have lived in many different worlds. I grew up in Switzerland and Germany, but moved to Japan when I was 19. I gave up everything I had in Japan at age 55 to come here because I felt it was my last chance to do something I really believe in, through my horn. I thought maybe there would be a niche for me here, after 9/11, as a Muslim who is a good person."
On tracks like the opener, "Ja-Jou-Ka", Sohrab quickly establishes the soulful intensity that is a theme of the whole release, and calls out in his spoken word vocals for unity and freedom. "Alone I am nothing, but together, we are winners, we are powerful!" (From the track "Welcome New Iran"). The musical tradition between Persia and Morocco, kept alive by the Master Musicians of JaJouKa, is honored here also.
"Welcome New Iran" grew out of Sohrab's involvement with the Green Movement for revolution and change in Iran, a movement which began in June 2009 amid protests inside Tehran against the oppression of Ahmadinejad and the Ayatollah. Untold numbers of people were killed and jailed, yet unlike the Arab Spring  which swept other parts of the world, the Green Movement has not been successful. It is Sohrab's hope that revolution and change can one day find a home in the land of his forefathers. For that, this song is dedicated.
"Khorasan" is a plaintive tribute in sound to his favorite province of Iran. "Vatan Kojai?" Farsi for "Where Is My Country?", finds him questioning his identity and roots. "Happy April Fool's Day" (he was born on April 1), shows of his playful Dadaist side. "NY's Sa-Si-Su-Se-So" is a reworking of an older tune, about his surprise with some of his expectations of NY. "Sad Sake" is a melancholic tune inspired by a similarly-named song made famous by the Japanese Enka singer Hibari Misora. This, however, is an original song, as are all of the songs on Nu World Trash, except "Khorasan", which is an arrangement of a traditional Iranian song. "Everyday Blues" finishes the CD, expressing the ennui of the everyday, with a sly wink, and a desire to enjoy the simple things of life, even as the droll realities get to you.
The players assembled for the recording reflect the eclectic tastes of their leader.
Born and raised in the Bronx, New York, bassist/composer Damon Banks has performed with and /or recorded with some of the entertainment industry's brightest stars, creative artists and innovative musicians. Most of these artists defy category and genre, including George Benson, Peter Gabriel, Caetano Veloso, Angelique Kidjo, Hassan Hakmoun, Chico Hamilton,  Arto Lindsay, The Neville Brothers, Wadada Leo Smith, KRS-ONE, Marc Ribot,  DJ. SPOOKY, and Saul Williams. Swiss Chris performed on drums, and has been heard previously with John Legend, James "Blood" Ulmer, Billy Cox, Mos Def, Dead Prez, KRS-ONE, and many others. Massamba Diop contributed on talking drum (tama) and is internationally famous for his work with Baaba Maal and his Daande Lenol Orchestra, as well as his own Senegal-America Project.  Sylvain Leroux sprinkles his exquisite blowing on fula flute throughout many of the tracks, and is one of the rare outsiders who has mastered this native instrument of Guinea. Leroux is well known in the NY world music scene for helping popularize West African rhythms in NY. Ladell McLin lends his bluesy guitar playing and flash on a number of tracks like "Nu Persian Flamenco", "Vatan Kojai?", "Happy April Fool's Day", "NY's Sa-Si-Su-Se-So", and "Everyday Blues"; with Alejandro Castellano (guitar) contributing equally inspired sounds, textures, and phrasings on "Ja-Jou-Ka", "Welcom New Iran", "Khorasan", "Sad Sake". Other players Derek Nievergelt (bass), Piruz Partow (electric tar), Mar Gueye (sabar), Kurt Dahlke aka Pyrolator (electronics), and "Indofunk" Satish ("firebird" electronic trumpet), provided further rich backing.
Throughout the recording process at BC Studio in Brooklyn, producer Martin Bisi (famous for his work on the NYC scene since the 70's with artists like John Zorn, Sonic Youth, Elliot Sharp, Ginger Baker, Bootsy Collins, and Jim Jarmusch, on Down By Law) oversaw all the sessions and lent his unique vision to the process.
Track #1 – Ja-Jou-Ka
Track #2 – Nu Persian Flamenco
Track #3 – New Welcome Iran
Track #4 – Khorasan
About the CD

Title: Nu World Trash
Label: DooBeeDoo Rec
Cat.#: DBDBCD001
Excecutive producer: Sohrab Saadat Ladjevardi
Engineer and co-producer: Martin Bisi
Recorded at: BC STUDIO (Brooklyn)
Release date: March 6th, 2012
Recorded tracks: 9
The musicians: Sohrab Saadat Ladjevardi (sax & vocal), Damon Banks (b), Swiss Chriss (dr), Derek Nievergelt (b), Masamba Diop (talking drum, Baaba Maal member), Mar Gueye (sabar/Dou Dou N'Diaye Rose's member), Alejandro Castellano (g), Kurt Dahlke (electronics), Satish (electric tr), Sylvain Leroux (fula flute), Piruz Partow (electric tar) and Ladell Mclin (g).
Videos
SoSaLa's Nu World Trash new release CD party happened at Manhattan's Nublu, March 6th, 2012, with Sohrab Saadat Ladjevardi on sax and vocals, Damon Banks on bass, Michael Wimberly on drums & dembe, Sinan Gundogdu on oud and Brian Prunka on guitar. Guest appearance by Sylvain Leroux on fula flute who played on three songs of the album.
When you listen to Welcome New Iran you here voices and sounds in the background which were taken from two YouTube video footage.