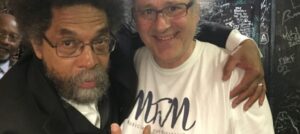 Dr. Cornel West – spoken word. West is an American philosopher, political activist, social critic, author, and public intellectual (http://www.cornelwest.com/).
On the musical front, West recorded a recitation of John Mellencamp's song "Jim Crow" for inclusion on the singer's box set On the Rural Route 7609 in 2009.
In 2010, he completed recording with the Cornel West Theory, a hip hop band endorsed by West.[57] He has also released several hip-hop/soul/spoken word albums. In 2001, West released his first album, Sketches of My Culture. Street Knowledge followed in 2004. In 2007, West released Never Forget: A Journey of Revelations, his third album which included collaborations with the likes of Prince, Talib Kweli, Jill Scott, Andre 3000, KRS-One, and the late Gerald Levert. West appeared on Immortal Technique's song "Sign of the Times", which appeared on the 2011 album The Martyr. In 2012, he was featured on Brother Ali's song "Letter to My Countrymen", which appeared on the album Mourning in America and Dreaming in Color.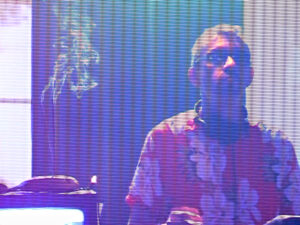 Genetic Drugs – electronics, various instruments, DJ, radio host & producer (https://geneticdrugs.de/) .
Hubl Greiner – electronics (https://www.hubl.com)
Hubl Greiner is a musician, composer and filmmaker. He is best known for his work with the rock group THE BLECH. Hubl has received international awards (including a nomination for the Austrian Grammy, Amadeus) and has toured worldwide for more than 40 years. He has participated in 65 CD productions.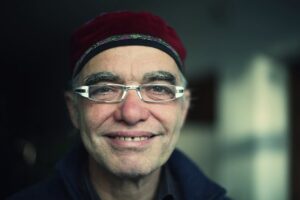 Paul Amrod – Fender Rhodes,  poet and composer (https://www.amrod.de/)
As a youth, Paul Amrod sang in a choir under the direction of Leornard Bernstein. He later received his master's diploma with emphasis on composition at the famous Juilliard School in New York. He was a pianist in the New York jazz scene for many years and performed on stage with Janis Joplin, The Paul Butterfield Blues Band, NRBQ, Fred Wesley, Pee Wee Ellis, Maceo Parker, etc. https://youtu.be/Ghqezh29oXI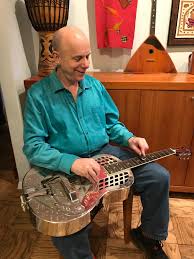 David Belmont – dobro, guitar and producer (https://windwatermusic.com/)
Since the 1970's, when David Belmont was active in Manhattan's rock and performance art scenes, he has been writing backgrounds for poetry, mime, theatre, film and dance. His work includes collaborations with poet Jose Angel Figueroa (Transfigurations, performed at Joseph Papp's Anspacher Theatre), mime-dancer-director Marc Maislen of Phasa Beam Arts (improvisations at the Cambridge (MA) River Festival, Lincoln Center Out of Doors and the Counterweight Festival, NYC; Angels Without Wings, Ebert Artists House, NYC; Ellipsis, Long Island University's Triangle Theatre, commissioned by Isaac Asimov for the Futures Conference) and holographer-magician Rick Silberman (Solid Deceptions, Museum of Holography, NYC; Invisible Cities CD).
Alongside his work with SoSaLa, David has led his own band, The WindWater Ensemble, since 1999. He has independently produced 26 CDs of his work. He is currently the co-musical director (along with Michael Walsh) of the Castillo Theatre, located on West 42nd Street in Manhattan, NYC.
He is currently Vice President of Musicians for Musicians, a professional association and musicians' rights organization, #MakingMusicIsAProfession.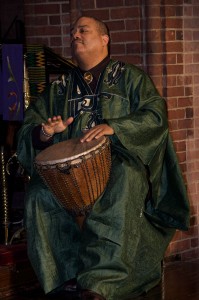 Baba Donn Eaton Babatunde – percussionist (https://www.babadonn.com/)
His recording career is as equally varied as it vast; the jazz idiom, rhythm and blues, and most African derived percussion styles are represented in his discography. He is a featured member of the esteemed Last Poets.
He has long been acknowledged as one of New York City's master teachers of African Drumming and the rhythms of the Diaspora in the Americas. Baba Donn Eaton Babatunde is presently on faculty at the Harlem school Of the Arts for over 25 years, teaching all ages from 4 years of age to adults.
He has performed and recorded with The Dance Theatre of Harlem, Alvin Ailey Dance Theatre, Maurice Hines, Gregory Hines, Andy Williams, and Chuck Davis Dance theatre, Pattie Labelle, Philycia Rashad, Choreographers Frank Hatchet, Geoffrey Holder, Louis Johnson and many more. Babs Donn Eaton Babatunde has recorded with many Jazz artist Donald Brown, Joe Henderson, Jason Linder, Tyrone Jefferson, James Spaulding, Ron Carter, Gorge Clinton, Pharaoh Sanders, and The Last Poets.
He's also the CEO and founder of the Percussion Arts Projects. As a teaching artist he has also conducted workshops throughout the Metropolitan, Tri State Area, with many institutions such as The Harlem School of The Arts, John Jay College, Arts Connections, African Horizon, Pyramid Dance Company, Arts Horizon, Yaffa Productions, North Hampden High School and Jack and Jill Inc.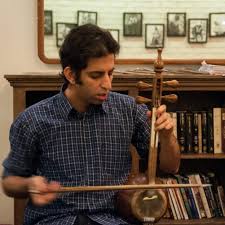 Kaveh Haghtalab – kemancheh and drums (https://www.facebook.com/kaveh.haghtalab)
Haghtalab is an Iranian kamancheh player and drummer. He grew up listening to his parents performing Persian classical music. At the age of 14, he began to perform with various music ensembles at concerts and festivals in Iran. Subsequently he was selected to become a member of "The Center For Preservation and Propagation of Iranian Music", and won the first title in Fajr International Music Festival. He came to the U.S in 2012 to further study western music and received a diploma from collective school music, and has been performing and touring around the U.S with different bands and also as a solo performer since then.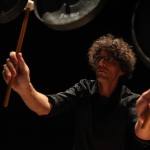 David Shively – Hungarian cimbalom
Solo appearances throughout North America and Europe include Spectrum XXI (Bucharest), Dia:Beacon, EMPAC, Miller Theatre, Performa, SONiC Festival, the American Academy in Rome, Other Minds, SALT Festival (Victoria), Staatsoper Stuttgart, Wittner Tage für neue Kammermusik, and Münchener Biennale. Now based in British Columbia, from 2004-2018 he was co-director of New York City's Either/Or Ensemble.  Other ongoing projects include the noise/drone band UllU, Balkan and Carpathian folk musics, and a wide range of work as an improviser.  Recent commissions from Dia:Beacon, Donna Uchizono Dance Group, and Harvestworks.  Recordings for Starkland, New World, Tzadik, Mode, Quecksilber, Braxton House, and other labels in addition to works for film, sound installation, and radio broadcast…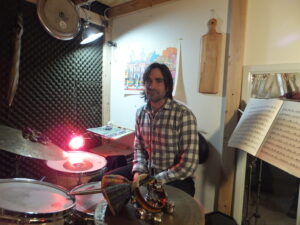 Lautaro Burgos – cymbals
Lautaro Burgos, born in Chaco, Argentina. Studied music in Escuela De Musica Contemporanea in Buenos Aires. Curious of traditions and cultures, in the search of blending roots with contemporary modern sounds. Played with traditional figures of the Argentine folk and tango, such as Maria Volonte, Marina Santillan, Broder Bastos and Sebastian Ibarra, as well as avant-garde jazz with trio del futuro and Javier Lozano. Big bands Kaymanta Kayman and Banda Hermetica and rock bands Papas Negra and Ojo Iman. As a session drummer worked and recorded for renown artists Ruben Goldin, Emanuel Arias, Guadalupe Luccia, Maru Rosa, MAURI.
Burgos first made his mark in NYC as a cast member of Fuerza Bruta with continued successes with as both a session player and side man In New York. He took master classes with Tony Malabi and Ari Hoenig. His works include co-leading electronic Cumbia band Darling Del Oeste, rock bands Foxy and Quickly Quietly. Vital part of traditional Mexican Afro-Amerindian music group Jarana Beat, "new world trash music" with SoSaLa, Brazilian influenced bands JBabun and Trio Matapuercos. Collaborations with afrobeat band People's Champs. Session work, recording and touring with LaLA Brooks, Diego Garcia, David Bronson and Richard Shepherd. Session works for Perfect Mixes Studios, The Mission Studios, Studio G and others.
Mike Irish – keys, recording engineer, producer and co-owner of Shifted Recording in Brooklyn, New York.
Masamba Diop – tama.
Massamba Diop is a master of the tama or talking drum from Senegal, West Africa, and the co founder of The Senegal-America Project. He has worked with Afro-pop superstar Baaba Maal and his Daande Lenol Orchestra since its inception over twenty years ago.
Mar Gueye – sabar.
Born in Tivaoune, Senegal, master drummer Mar Gueye is the son of Bouboucar Gueye and N'dambe Thioune, both of respected musical families known as N'guewel.
Bob Romanowski – guitar.
He currently works as a music therapist in Berlin, Germany. He studied Ethnology and Cultural Anthropology at Johann Wolfgang Goethe University in Franfurt am Main and was trained as a music therapist at the  Institut für Musiktherapie in Berlin-Zehlendorf.